Memory and cognitive issues don't happen rapidly. They unfold over time, sometimes very slowly, eventually leading to other problems that could risk your loved one's safety. Knowing when the time has come to move your loved one into Memory Care can be difficult, and it's different for everybody. But when you know they're ready for professional help, our caregivers at Eagle Point Senior Living are ready to serve.
Choosing a Memory Care home is all about determining your loved ones' needs and the level of care they require. Compared to our other lifestyle options, like Assisted Living, Memory Care adds an extra level of services, features, and amenities. While Memory Care is a hands-on approach to caregiving, our staff works hard to empower your loved ones so they can live as independently as possible.
From the safety features we provide to our caregivers' training, here is everything you need to know about Memory Care.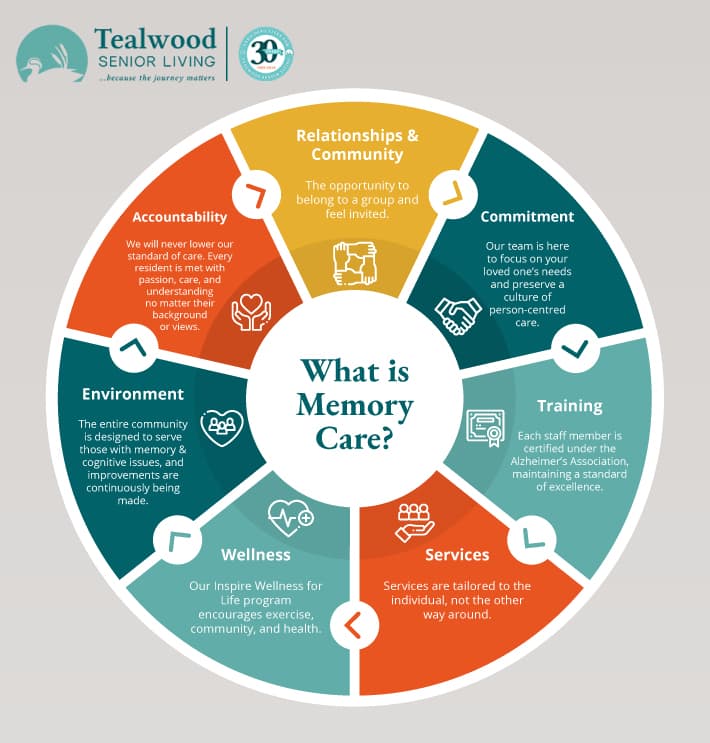 Comprehensive Caregiver Training
The very first thing we prepare for our residents is a team ready to serve your loved one's every need. Each of our Memory Care staff members is trained extensively through our Enriching Connections program, a program designed to help our caregivers deliver a superior care level for our cognitive-impaired residents.
Enriching Connections focuses on a couple of key factors, all of which improve our residents' quality of life.
First, all of our caregivers are certified in dementia care through the Alzheimer's Association. This ensures that our team working in Memory Care are experts on cognitive-impairing conditions and their symptoms.
Second, we prioritize person-centred care. This means our caregivers spend more time with our Memory Care residents in one-on-one settings than any other lifestyle option we offer. This creates a connection between your loved one and their caregiver, providing a strong base of support they can rely upon. Our caregivers are ready to serve 24 hours a day, ensuring every need possible is met.
Third, we want to ensure your loved one is living as independently as possible, giving them the ability to make their own choices throughout their day-to-day while still maintaining a level of support to ensure they are comfortable and safe.
Safety & Special Care
A home just isn't a home unless it is safe. Our caregivers are available around the clock to help protect our residents in any situation. If there is an emergency, we will always be nearby to respond. We even go as far as including routine check-ins with our residents while even assisting with their medications and other health needs.
However, safety isn't just exclusive to our caregivers' work; it's also the basis of our entire community. Our community is designed to support Memory Care residents by providing easy-to-understand layouts, non-slip floors, and many other subtle features to improve life quality.
Included in the Memory Care lifestyle are specially designed suites, kitchenettes, and bathrooms that help orientate residents, bolstering their confidence and independence. But the benefits don't stop there.
Throughout our care program, we will treat your loved one with various therapy-based exercises designed to improve certain faculties of their memory. These exercises could include music therapy, pet therapy, or even reminiscence therapy. Each one of our residents will have the opportunity to try out every program they want and the chance to choose which therapy they enjoy the most.
Signs of Memory & Cognitive Problems
Some of the most common symptoms of memory issues include:
Forgetting to eat, bathe, or clean
Getting lost or wandering
Sundown syndrome, which exacerbates agitation, anxiety, and aggression during the late afternoon or evening
Difficulty reading, writing, or speaking
Shortening attention spans
Inability to adapt or improvise in new situations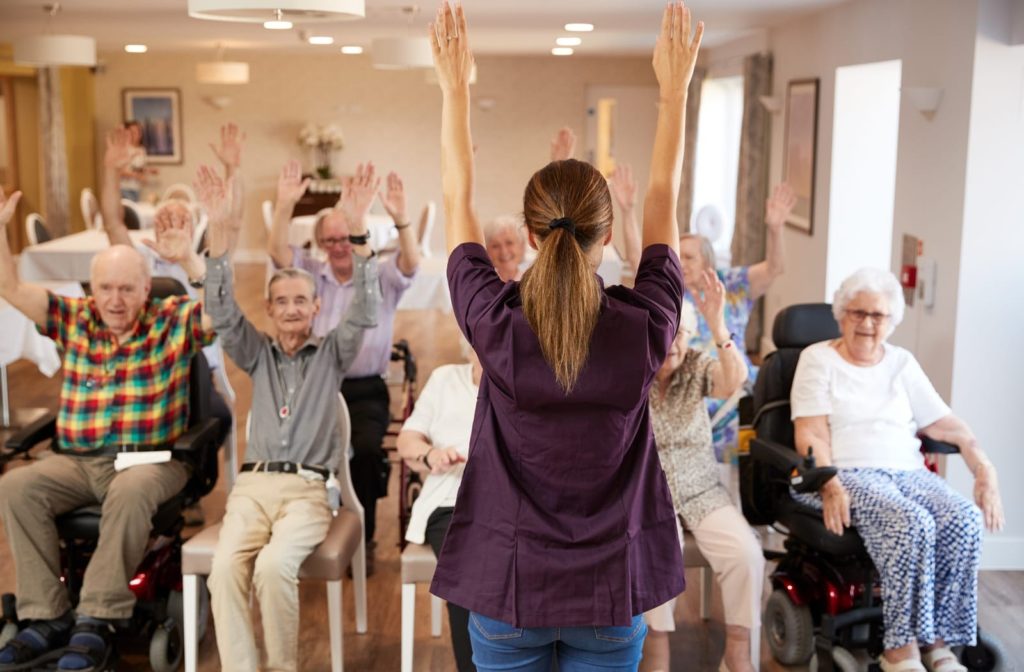 Choosing Between Assisted Living or Memory Care
Choosing the best lifestyle for your loved one can be a difficult choice to make, and it all depends on the level of care they need. Both Assisted Living and Memory Care present fantastic benefits for maintaining and improving our residents' quality of life. Still, some of the services provided by Memory Care will not feature in Assisted Living.
If your loved one can live on their own relatively safely, or with only a little help from a caregiver, Assisted Living may be a great option for them! Assisted Living achieves a beautiful mix of independence and service, seamlessly transitioning between the two. Assisted Living helps residents make less of a chore out of their daily living, aiding them in things like bathing, eating, or even moving around.
Memory Care is far more hands-on and is best for those who are consistently misplacing items, forgetting to care for plants, animals, or themselves, or even getting lost when doing something simple like going to the grocery store. These cognitive issues generally progress over time, making life alone more difficult and dangerous.
What Would it Cost?
Because Memory Care requires much more attention from our caregivers, the cost is generally more than the average Assisted Living expenses. Still, the services provided are very much worth their price.
Alongside a private suite, a daily chef-prepared meal plan, and routine health check-ups from qualified doctors, Memory Care residents also receive a range of therapy programs to improve memory and cognition, 1-on-1 time with caregivers, and more.
We can help determine the level of care your loved one needs by having a conversation with you and your loved one, but prices can range depending on their needs. All you need to do is contact us, and we can help with the rest.