Choosing your Memory Care provider is never an easy decision to make. Not only are you concerned with the level of care your loved one is receiving, but you also want to ensure that the community you and your loved one chooses is the right fit for them in every possible way.
At Tealwood, we strive to help each one of our residents find a place to call home while also getting every bit of information they need to make an informed decision on their community. These decisions can last a lifetime, but it doesn't have to feel like it to find one.
What choosing a Memory Care provider all boils down to is simply just being prepared and knowing the right questions to ask. Today, we are going to guide you through the steps of finding the right Memory Care provider so that you and your loved one can rest easy knowing you both are in the right places.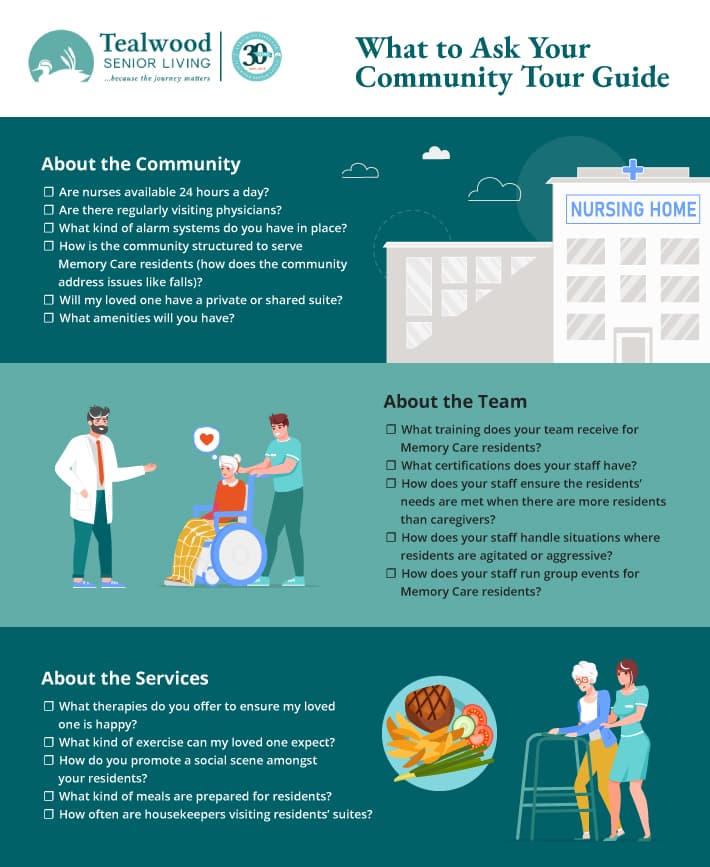 Knowing When Memory Care is Right for You
Before exploring what you should be looking for in a Memory Care provider, the first step is to understand if Memory Care is right for your loved one.
Memory Care is a tailored lifestyle that helps those with memory or cognitive deficiencies live life comfortably. There are a variety of signs you can spot to tell if your loved one might be struggling with issues like Alzheimer's and dementia, including:
Neglecting to eat, bathe, or clean
Wandering or getting lost
Sundown syndrome, which exacerbates agitation, anxiety, and aggression during the late afternoon or evening
Difficulty reading, writing or speaking
Shortened attention spans
The inability to adapt or improvise in new situations
If these issues apply to your loved one, then it might be time to think about choosing a Memory Care service.
Schedule a Tour
The next step is to do your research. Once you find a community that seems to match what you're looking for, you should schedule a tour. Tours are the most important part of your choosing process, as it allows you and your loved one to get some one-on-one time with the potential caregivers and to see the community itself.
During the tour, you should pay attention to:
The Security of the Community
Every senior living community has put substantial time and resources into ensuring that their buildings are built for safety, comfort, and convenience.
Because Memory Care residents require more security from their building, you should be looking for what makes the community safe for your loved one. Ask your tour guide the following questions:
Are nurses available 24 hours a day?
Are there regularly visiting physicians?
What kind of alarm systems do you have in place?
How safe the community extends even further from the personnel available; it stretches to the building's design itself. You may wish to ask:
How is the community structured to serve Memory Care residents (how does the community address issues like falls)?
Will my loved one have a private or shared suite?
What amenities will you have?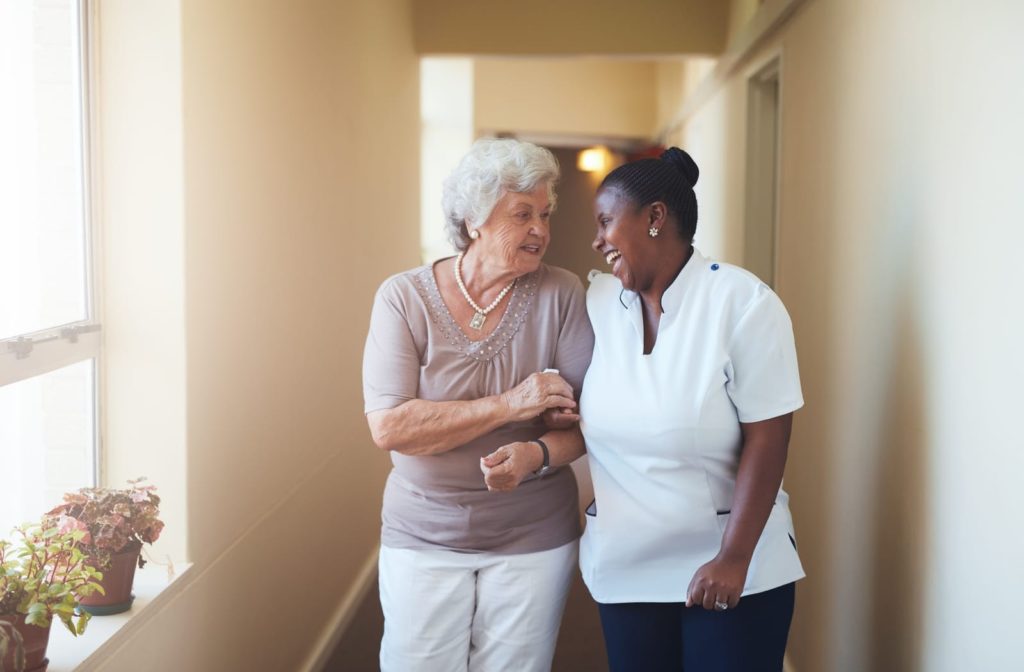 The Team Involved
A senior living community is only as good as its caregiving team, so be sure to ask questions about their staff and training. These questions could look like these:
What training does your team receive for Memory Care residents?
What certifications does your staff have?
How does your staff ensure the residents' needs are met when there are more residents than caregivers?
How does your staff handle situations where residents are agitated or aggressive?
Learn the Services
The next step is to find out the services the community offers. Senior living is not just about "living," it's about "thriving!" Pay attention to what your prospective community is doing to ensure that all residents find ways to live life the way they want.
Take a look at a services brochure, or simply ask questions about their services, including:
How does your staff run group events for Memory Care residents?
What therapies do you offer to ensure my loved one is happy?
What kind of exercise can my loved one expect?
How do you promote a social scene amongst your residents?
What kind of meals are prepared for residents?
How often are housekeepers visiting residents' suites?
You should also pay attention to the types of advanced services that are available, like hospice care or rehabilitation care.
Trying Out the Community
Once you feel comfortable with the community you're researching, the next step is to determine if they have options for short stays, like Respite Care. Respite Care allows residents to try out the community for a couple of days, giving them access to every service they can expect while living there.
This is the true test of every senior living community; the trial visit. During this visit, you will be able to visit your loved one to make sure they are adjusting comfortably. Once it is clear to you that this is the community that's right for you and your loved one, you will be able to start the process of setting up a permanent residency.
Make Sure Your Needs Are Met
The community you choose isn't just serving your loved one, they are also serving you. Be sure you are finding all the information about the community and their policies on payment, how each service is priced, and how your loved one's medical needs are met.
You and your loved one deserves absolute peace of mind. With these questions at your side, you are better prepared to five deep into the community of your choosing to ensure your loved one is enjoying every moment of their life.
If you believe it's time to schedule a tour with our community, please contact us today. We are ready to serve you.