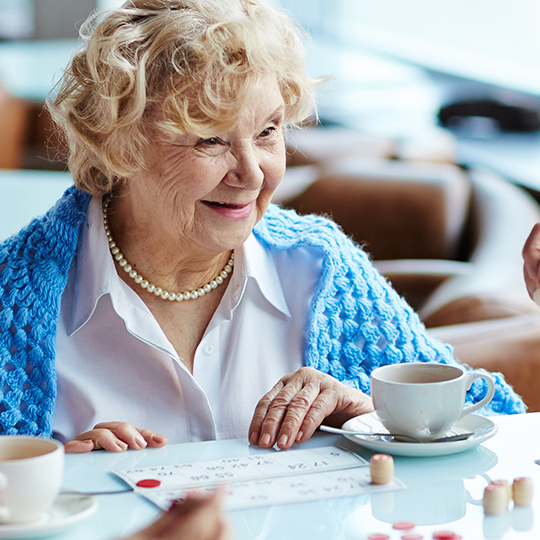 Our Primary Goal is Your Comfort
Joining our community can involve significant changes for residents and their loved ones, so we want to make the transition as easy as possible. Our facilities are comfortable and inviting so we can focus on our members' overall health and happiness.
Through a revolving door of evidence-based practices and quality assurance programs, we're committed to supporting our residents' well-being. Our primary goal is to maintain the absolute highest level of care throughout our community.
Our Community Services
Inspire Wellness for Life
We recognize the importance of individuality and strive to help our residents embrace their uniqueness in every aspect. Inspire Wellness for Life is a program developed to help maintain a positive quality of life through the 7 Dimensions of Wellness. Our guiding principles are:
Physical: Choosing to live a healthy, active lifestyle
Spiritual: Living with meaning and purpose
Social: Interacting daily with others
Emotional: Awareness and acceptance of feelings
Intellectual: Engaging in creative pursuits
Vocational: Expressing yourself through talents and passion
Environmental: Respecting and caring for our surroundings
Inspire Wellness for Life helps improve cognition, decrease pain and falls, and reduce depression symptoms in a way that resonates with each individual.
Respite & Recovery is a program designed for short-term stays, focusing on individuals who have suffered from an illness, disease, or injury. This program gives individuals a safe and comfortable place to focus on recovery.
Since this program is only available for short-term stays, we can provide comprehensive individualized packages that include:
A fully furnished apartment
All utilities, except phone
3 meals a day
Housekeeping
Emergency response team
Group activities
24-hour on-campus staff
Continuous wellness checks
Assistance for personal care, such as bathing, dressing, toileting, grooming, eating, and moving
Medication administration and set-up
Nurse supervision and monitoring from trained staff
One of the most significant ongoing concerns in healthcare is medication management due to errors, overuse, and thorough, quality review.
At Eagle Point, our primary focus is to ensure that our residents are comfortable, happy, and above all, healthy. We always guarantee to listen and respond to each resident's needs so we can provide the best care possible.
Enriching Connections Dementia Certification
Our memory care and management staff are specially trained to communicate and care for residents with memory loss. Enriching Connections focuses on enriching the lives of residents with dementia, Alzheimer's, and memory loss. We strive for allowing independence while ensuring a high level of care. Enriching Connections training and certification covers:
Relationships & Community: Every individual is invited to belong.
Commitment: Our team is committed to providing every resident with personalized care.
Certification & Training: All management and memory care staff are certified in dementia care by the Alzheimer's Association, in addition to other dementia training.
Services: Families can make the right choices for their loved ones with the help of our nursing staff.
Meaningful Life & Engagement: Inspire Wellness for Life is our core program philosophy that promotes the best quality of life for every resident.
Environment: We make continuous improvements, so our community remains dementia-friendly.
Accountability: We are always monitoring processes, plans, and culture so we can maintain our high standards of care.
Enhanced Care is for residents who need assistance with daily living through extra support, devices, or monitoring. With Enhanced Care, residents can expect all the comforts of home plus round the clock nurse availability. Some Enhanced Care services include:
Advanced respiratory services: Oxygen management, nebulizers, CPAPs and BiPAPs.
Enhanced medication management: Sliding scale insulin, coordinating lab results, overseeing medication changes and adjustments.
Altered diets: Including pureed and mechanical soft diets.
Mobility assistance: Using mechanical assistive devices or two-person transfers.
Explore Eagle Point Senior Living
Get the Eagle Point Experience
We are proud of our community, and it would be our pleasure to show you around. Visit us at the end of East John Street on the banks of the Fox River.
Email Us
Our Address
955 East John Street
Appleton
,
WI
54911