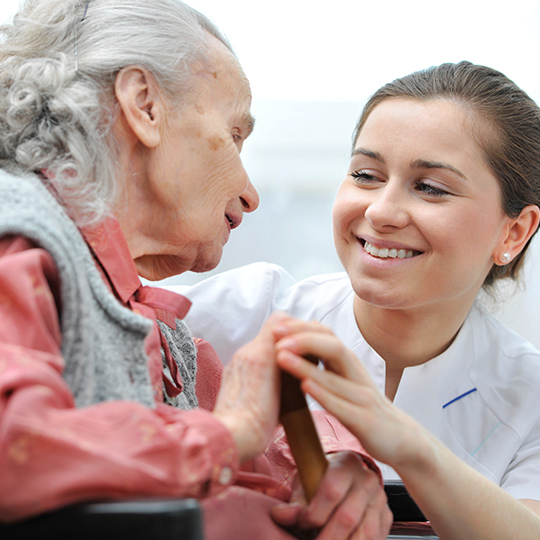 Hands-On Support When You Need It
Cognitive impairments, such as dementia, affect over 16 million people in the United States. These impairments can make daily tasks increasingly difficult and can make living alone intimidating.
We recognize that, for these residents, maintaining independence is paramount to their happiness. We structure individual care plans and routines around giving residents access to as much freedom as possible while ensuring they have access to 24-hour support.
Our primary goal is to ensure our residents are well taken care of and have access to a warm and welcoming environment.
Compassionate Care for an Improved Quality of Life
For residents with cognitive impairments, such as dementia, ensuring they have structured routines can significantly improve their quality of life. We work hard to provide meaningful activities in a safe environment to help our residents maintain their freedom and individuality.
At Eagle Court, every resident has a customized care plan tailored to their unique needs. Our compassionate staff works diligently to note all our resident's defining factors so we can support them and their loved ones as a cohesive unit.
We recognize that situations can change rapidly, so we offer flexible services that can adapt to different circumstances when necessary. Our expertly trained staff are here to guide you through difficult times so you and your family can feel comfortable and cared for.
Identifying Levels of Support
If our memory care services seem right for you or your loved one, you and your family can meet with one of our registered nurses to determine the level of care needed. Services offered include:
Bathing
Dressing
Personal hygiene and toileting
Eating assistance
Medication assistance
Transferring assistance
Enriching Connections is a program offered by Eagle Point, developed with a focus on residents with dementia. This program helps our compassionate staff properly and effectively serve our cognitively impaired residents with a superior level of care.
Through Enriching Connections, we create personalized care programs for every resident, focusing on maintaining their freedom and independence. This program is based on 7 foundational elements:
Relationships & Community: Every individual is invited to belong.
Commitment: Our organizational leaders are actively involved and committed to preserving our culture of person-centered care.
Certification & Training: All management and Memory Care staff members are certified in dementia care through the Alzheimer's Association and complete additional dementia training.
Services: Families can focus care plans that promote personal preferences, dignity, and independence with the aid of our nursing staff.
Meaningful Life & Engagement: Inspire Wellness for Life is our core program that allows us to promote and maintain the best quality of life.
Environment: We are dedicated to making continual improvements so every Tealwood community maintains its dementia-friendly environment.
Accountability: We continually monitor our processes, operational plans, and culture to sustain our high standards for quality care.
Memory Care May Be A Good Option If…
Independent living is becoming unsafe due to cognitive impairments.
Your health is at risk.
Your needs surpass the abilities of your loved ones.
You are neglecting responsibilities or relationships with others.
You would benefit from the structured care of our Memory Care community.
What You Can Expect at Eagle Court
Our Memory Care residents will receive the following services:
Assistance going to and from meals, events, and appointments
Regularly scheduled care conferences
3 chef-prepared meals a day
Housekeeping
Laundry
And more
Experience All Eagle Court Has to Offer
Eagle Court was designed to suit a variety of needs, making life comfortable and easy for all residents, including those with cognitive impairments. We want our residents to feel happy and healthy when they're with us.
Some of the features and amenities that members of our community enjoy are:
Big, airy walkways
Visual queues around the apartment and common spaces to assist with navigation
Activity centers and recreational programs
Secured outdoor spaces
Grand bath with whirlpool spa
Functional and meaningful activities
Apartment Amenities
Private suite
Kitchenette
Bathroom with shower
Utilities included, except phone
Regular and frequent health monitoring from highly-trained staff
Non-slip floors
Heat lamps with timers
Other subtle design features for wayfinding, safety, and independence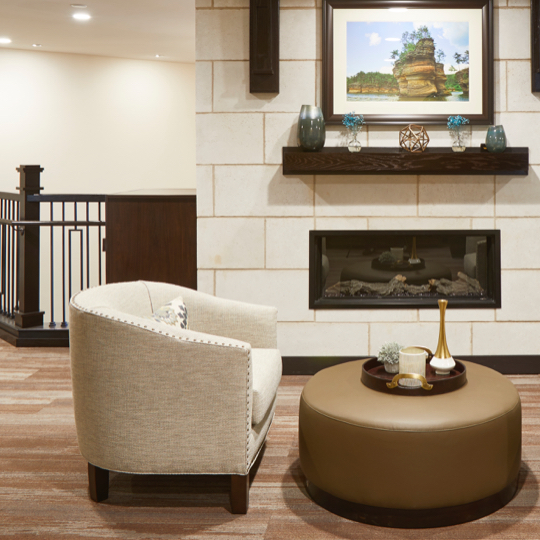 Explore Eagle Point Senior Living
Get the Eagle Point Experience
We are proud of our community, and it would be our pleasure to show you around. Visit us at the end of East John Street on the banks of the Fox River.
Email Us
Our Address
955 East John Street
Appleton
,
WI
54911